Stago's IFU (Instructions For Use) platform can be accessed from the website www.stago.com, where users will find the digital version of our documents.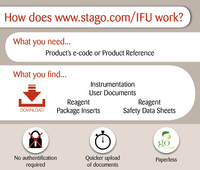 Our Digital Documentation project is fully in line with Stago's move towards the Web 3.0. It is also in line with the Stago's Environmental Approach, which was launched a few years ago and resulted in our achievement of ISO 14001 certification.
In addition to the project's "green" aspect, dematerialisation offers additional advantages to our users. You will have access to the latest versions of reagent manuals, safety data sheets (SDS) and instrument user documents (reference manual, user guide) which can be viewed and/or downloaded. In addition users will also have access to the previous versions of the manuals by reference. This instant accessibility to both current and previous versions of documents meets the traceability regulation requirements for accreditation.
In summary:
Users can access www.stago.com without a login or password, and enter the country they live in to download the product documents registered and/or marketed in their country.
Enter the e-code or the product reference.
Download the corresponding product documents.
Paper documents will gradually be removed from kits as new batches are created (over the next 18 months) and from the first year of implementation Stago will reduce paper consumption by 1.5 tonnes.