Stago now offers a compact platelet aggregation system based around the 'gold standard' light transmission aggregometry (LTA) technique along with a range of platelet agonists for exploration and evaluation of platelet aggregation agglutination activation and inhibition.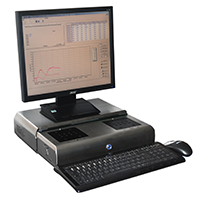 The eight- and four-channel instruments, the TA-8V and TA-4V, incorporate innovative infrared light technology to reduce optical interferences to ensure that results are always of the highest quality.
Semi-automated, reliable and ergonomically designed for benchtop use, the analysers incorporate their own inbuilt computer, keeping workspace requirements to a minimum. These robust instruments are also supplied with a market-leading 5-year warranty.
Five reagents, all CE marked for use on the TA Series aggregometer, are also available:
ADP (Ref: 86923)
Arachidonic Acid (Ref:86922)
Collagen (Ref: 86924)
Epinephrine (Ref: 86925)
TRAP 6 (Ref: 86926) 
The aggregometer is also compatible with research reagents and is suitable for the scientific study of Haemostasis.
Want to know more? Get in touch today: labs@uk.stago.com