Laboratory solutions from Stago UK had a particularly high profile at this year's Institute of Biomedical Science Congress, which was held recently at Birmingham's International Convention Centre. IBMS is the leading professional body for biomedical scientists, with 20,000 members in 30 countries. It is dedicated to 'the promotion, development and delivery of excellence in biomedical science'. With 139 exhibitors at this year's Congress, the scientific programme alone attracts around 2,500 scientists from all disciplines in biomedical science.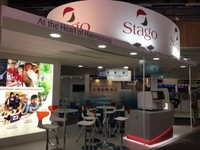 News of the company's success in being the third party supplier of haemostasis solutions to the largest pathology group in the UK was just hitting the headlines as congress opened. Customers and congress visitors headed for the Stago stand, which was ideally placed right by the entrance hall. Leanne Annereau, Gill Eyre and the UK team reported the highest level of customer engagement since the company first opened its UK operations over 10 years ago. The team was ably supported by an innovative stand design, which helped visitors obtain information via a series of interactive touch screens.
Attracting most attention was the much heralded STA R Max2, the latest member of the Max Generation, with its EPC Module to detect HIL interferences.  In addition, visitors were interested in the STA Coag Expert, with its expert rules to help manage accreditation and administration requirements. Stago product specialists were on hand to explain exactly how the module automates laboratory processes, standardizing the validation of patient results. Customers using the expert rules find they simplify complex testing, providing easy to use, multi-dilution factor management for factor assays - delivering labs greater confidence in their results.
And it was back in the limelight for the ST Genesia, the first fully automated, standardized system for continuous monitoring of thrombin generation.
The new, semi-automated instrument STart Max was also on display.  With its new drop-shaped design (reflecting the Stago logo and company history) and graphical interface, the instrument immediately impresses. As the  instrument is unaffected by HIL interferences, it really  comes into its own when it is used to handle problem samples, freeing up the larger instruments so they can maintain turnaround times for routine processing.